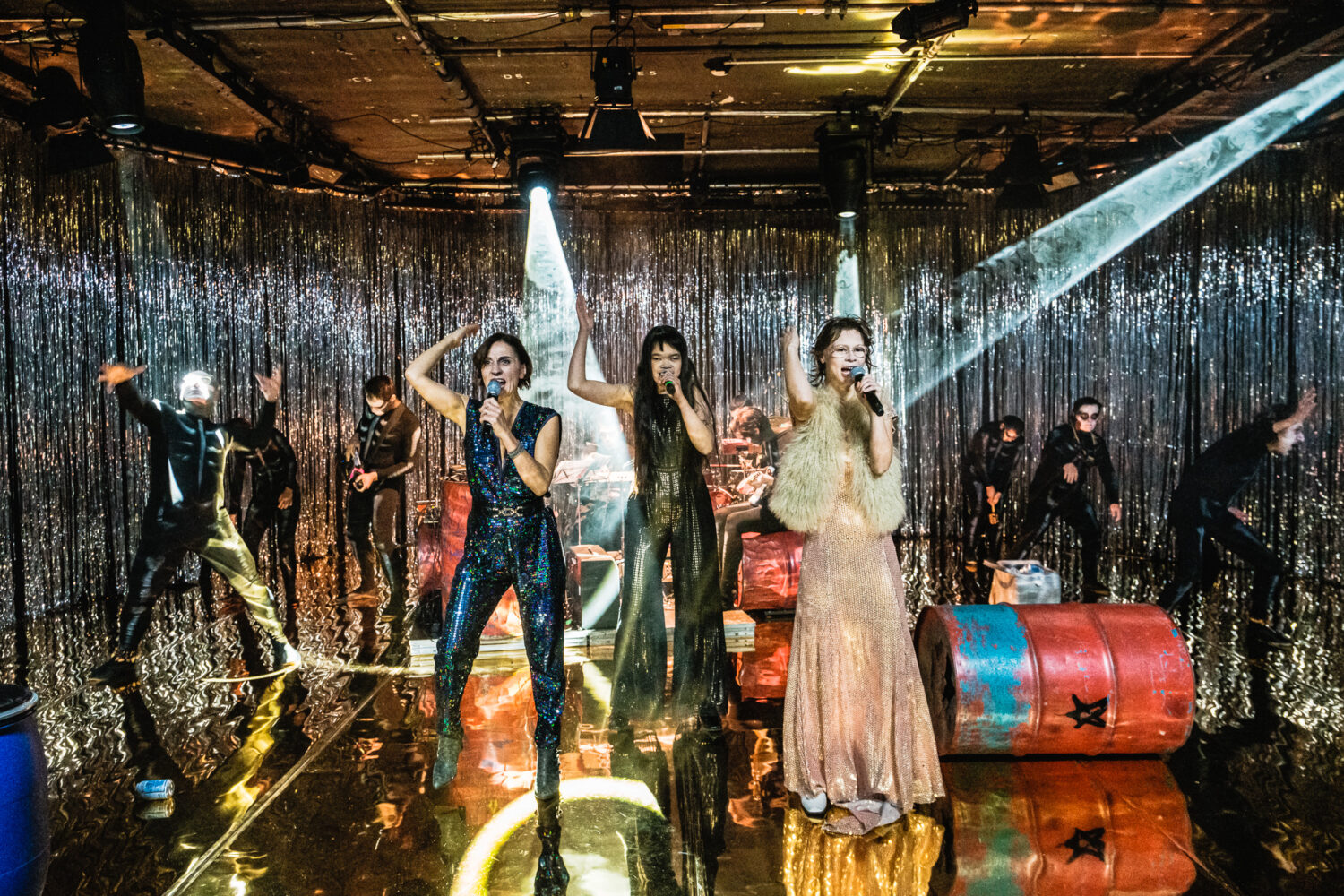 With sparkling 70's suits, giant alien masks and creepy face paint, the ensemble of the RambaZamba Theatre brought the world flames like a disco kugel to stage from December 16th-21st. While the original songs and choreographed dance made for a highly entertaining show, it wasn't only fun and games. Inspired by the current era of climatic variability and extremes, the piece put our actions with water, climate change, and the planet under the spotlight.
In the fantastical dystopia dreamed up by playwrights Mateja Meded and Thomas Köck, drought and water pollution has wiped out human civilization. Even the Styx, the river of the dead, and its tributaries Kokytos and Lethe have dried up. The souls of the deceased can no longer cross over into the realm of the dead and begin to accumulate on the river bed—hoping for a flood.
Just as a group of aliens arrive and plan to colonise Earth, Styx flows onto the stage through the tinsel and chaos ensues. Audiences are taken on a mythical journey to ask whether a refound love for the planet can help the tides turn to bring the water and the spirits back….
The play was created as part of RambaZamba's collaboration with the Theater of the Anthropocene and AnthropoScenes—funded by the Berlin University Alliance. It featured Grit Burmeister, Ferdinand Dambeck, Heiko Fechner, Eva Fuchs, Moritz Höhne, Vincent Köhler, Anil Merickan, Joachim Neumann, Hieu Pham, Sebastian Urbanski, as well as Artemis Chalkidou, Leo Solter, Robin Gehlhar on stage. It was directed by Jacob Höhne, with dramaturgy by Frank Raddatz.
Photo Credit: Andi Weiland