Researchers at IRI THESys have joined forces in different working groups to exchange ideas, concepts and case studies on cross-cutting topics – such as decolonization, mining or modeling. The working groups below showcase running initiatives mainly created, developed and organised by doctoral and postdoctoral researchers.

The decolonial research group was born in December 2019 as a student initiative to study and disseminate Decolonial Studies in the transdisciplinary work of the IRI THESys.
We hold a monthly meeting to present and discuss relevant texts from Decolonial research and other currents of critical thought. We also work on developing our own texts and commenting on the work of close colleagues and guests, aiming to produce a fruitful and transversal dialogue. In June 2021, we held an Interdisciplinary Dialogue on Decolonizing Academia at IRI THESys which explored  how coloniality influences knowledge production within academia.
You can follow our reading sequence here.
Find further information on our website: decoco.net
For any collaboration, please do not hesitate to contact us.
Contact: Jorge Vega

We initiated the Mining Working Group in 2018 as more and more researchers interested in studying different aspects of global mining practices and processes joined IRI THESys.  Envisioned and enacted as a space of reflexive exchange, the Working Group brings IRI researchers working on different types and aspects of mining and resource extraction in dialogue.
Through our current research, we cover various forms of extractivisms and alternatives in Central Asia (Kyrgyzstan), East Africa (Tanzania) and Latin America (Chile and Colombia). Our research is interdisciplinary, multi-method and speaks to critical geography, political ecology, anthropology, institutional economics, and cognate scholarships. For a snapshot of these mining research projects, you can read three in-depth research stories here.
Members of our group include: Cristián Flores Fernández, Anna Frohn Pedersen, Sascha Cornejo Puschner, Liliana Mosquera, Beril Ocaklı.
We welcome your queries and interest in potential collaboration with our thought collective. 
Beril Ocaklı, Co-organiser & Speaker
Situated Modelling Working Group

The Situated Modelling (SitMod) working group aims at fostering a reflexive and co-laborative approach to modelling human-environmental relations. We call this approach "Situated Modelling" drawing on Donna Haraway's (1988) notion of situated knowledges. Situated Modelling is a way of researching and reflecting on modelling practices, which ultimately and in collaborative engagement might also lead to modelling differently.
The group brings together early career and senior researchers who study modelling practices from a Science and Technology Studies (STS), anthropological, human geographical and philosophical perspective and/or use (numerical) modelling methods in their research. Currently we engage with different modelling approaches on different scales: agent-based models in socio-ecological system research, hydrological models, earth system models, system dynamics and causal loop modelling and participatory approaches. We jointly organize workshops and summer schools, teach in graduate student seminars, write articles and learn across disciplinary boundaries.
Get in touch if you are interested!
Rossella Alba (), Anja Klein (), Krystin Unverzagt () (alphabetically ordered)
"The Situated Modelling Working Group has planned some activities for the upcoming semester. Please contact Anja Klein  if you would like to join and to receive the zoom link.
Situated Modeling Group meetings:
Wednesday, October 25, 2023, 10 to 11:30 am, hybrid on zoom and at the IRI THESys: Discussion "From Situated Knowledges to Situated Modelling: a Relational Framework for Simulation Modeling" (paper submitted to Ecosystems & People) (Anja Klein)
Wednesday, November 29, 2023, 10 to 11:30 am, hybrid or online:  Workshop: "Can we rethink model structures to enact different kinds of ethics?" (Krys Unverzagt)
Wednesday, January 31, 2024, 10 to 11:30 am, hybrid or online: Discussion: "Political Commitments in German-Indonesian Tsunami Warning System Project through Tsunami Modeling" (Irina Rafliana)
Other events:
Friday, November 03, 2023, 16.30 to 17.45 am, Berlin Science Week Panel: "Building (with) Nature" with Andrew Gilbert, Rossella Alba, Stefan Schäfer, Michaela Büsse, https://berlinscienceweek.com/event/building-with-nature/ "
The Situated Modelling Working Group has planned some activities for the upcoming semester. Please contact Anja Klein  if you would like to join.
Progamme
12 May 2023, 11.00 am: Getting to know each other, intro to the Situated Modelling Group
26 May 2023, 13.15: Anja's presentation at the THESys Colloquium "Everything everywhere and all at once: Uncertainty in environmental modeling. A review from an anthropological perspective."
5 June, 13.00: Online reading session. We propose to start by reading Krüger/ Alba 2022 (https://www.frontiersin.org/articles/10.3389/frwa.2022.1038322/full) and extending this to broader uncertainty discussions in environmental modelling.
15-16 June 2023: Poster presentation @10 Years IRI THESys
12 July, 9.30 am: Online reading session: tbd based on participants' interests
18-22 September 2023 Summer School "Situating Hydrological Modelling"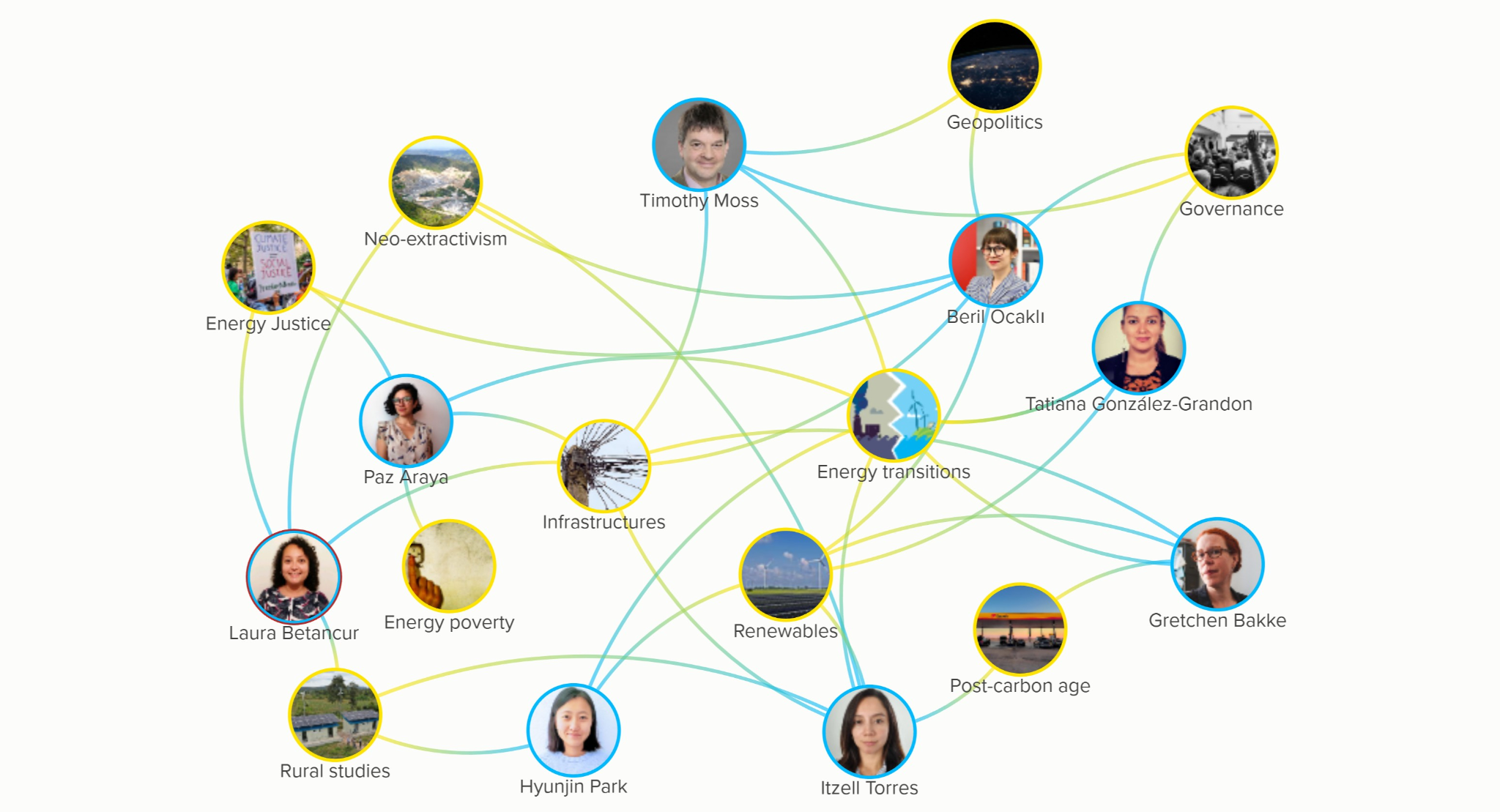 We are an interdisciplinary group of researchers from a variety of disciplines, with a common interest in exploring energy politics, infrastructures, and transitions in both the Global North and South. Our approach to studying energy infrastructures is unique in that we don't simply view them as static material constructs; rather, we recognize them as processes ingrained in and paramount to complex socio-ecological, socio-technical and socio-cultural systems. By focusing on these dynamic processes, we aim to gain a deeper understanding of the ways in which energy systems shape and are shaped by human-environment relations.
Our group is made up of a diverse range of scholars from fields such as geography, anthropology, mathematics, economics, history, and beyond. Our collective goal is to engage in meaningful discussions surrounding a variety of pressing topics related to energy, including energy poverty, the geopolitics of energy, the intersection of energy and nature, energy infrastructures, and rural energy transition. By exploring the interconnections between these subjects from various analytical perspectives, we strive to gain a more holistic understanding of the complex systems at play. Our group regularly employs various discussion methods to facilitate open and productive conversations, including dialogues for providing feedback on works in progress, reading groups for discussing relevant texts and inviting expert speakers to share their insights with the group.
Group members: Paz Araya, Gretchen Bakke, Laura Bentacur, Tatiana Gonzales-Grandon, Timothy Moss, Beril Ocakli, Hyunjin Park, Itzell Torres (alphabetically ordered)
Infrastructures and Transformations Working Group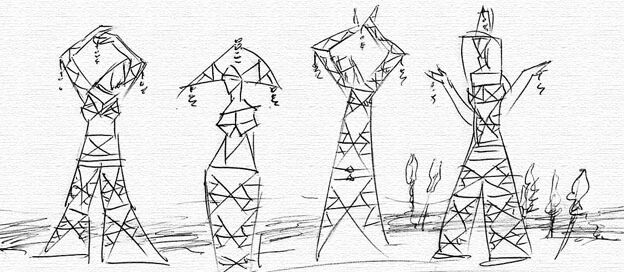 Infrastructures represent a paradox. They underpin our healthy, connected communal existence yet – being designed also to facilitate economic development through growth – they have been instrumental in generating socio-ecologically exploitative regimes of production and consumption. How to reconfigure these hubs of human-environment relations to render them more environmentally sustainable, socially inclusive and politically accountable is core to our engagements in the group "Infrastructures and Transformations" at IRI THESys.
What we are particularly interested in:
Temporalities of infrastructures, infrastructures and extractivism, intersectoral coupling, geopolitics and multiscalarity of infrastructure, (ir-)reversibilities of infrastructure, repurposing infrastructures, infrastructural (in)securities and violence.
What we do together:
Debate inspiring/irritating texts
Discuss our own work in progress (publications, proposals, essays)
Exchange with external researchers
Visit infrastructure sites and people to generate novel ideas
What we hope to do in future:
Help people transform infrastructures
Identify modes of collective influence on infrastructure policy
Engage with critical practitioners of infrastructure
Enrich academic reflexivity through such exchanges
Group members: Rossella Alba, Gretchen Bakke, Sandra Jasper, Timothy Moss, Beril Ocaklı, Heike Weber
If you are a PhD scholar, PostDoc or senior researcher at IRI THESys and would like to join the group, please get in touch with .
Photo credits: Elena Paroucheva (Creative Commons)