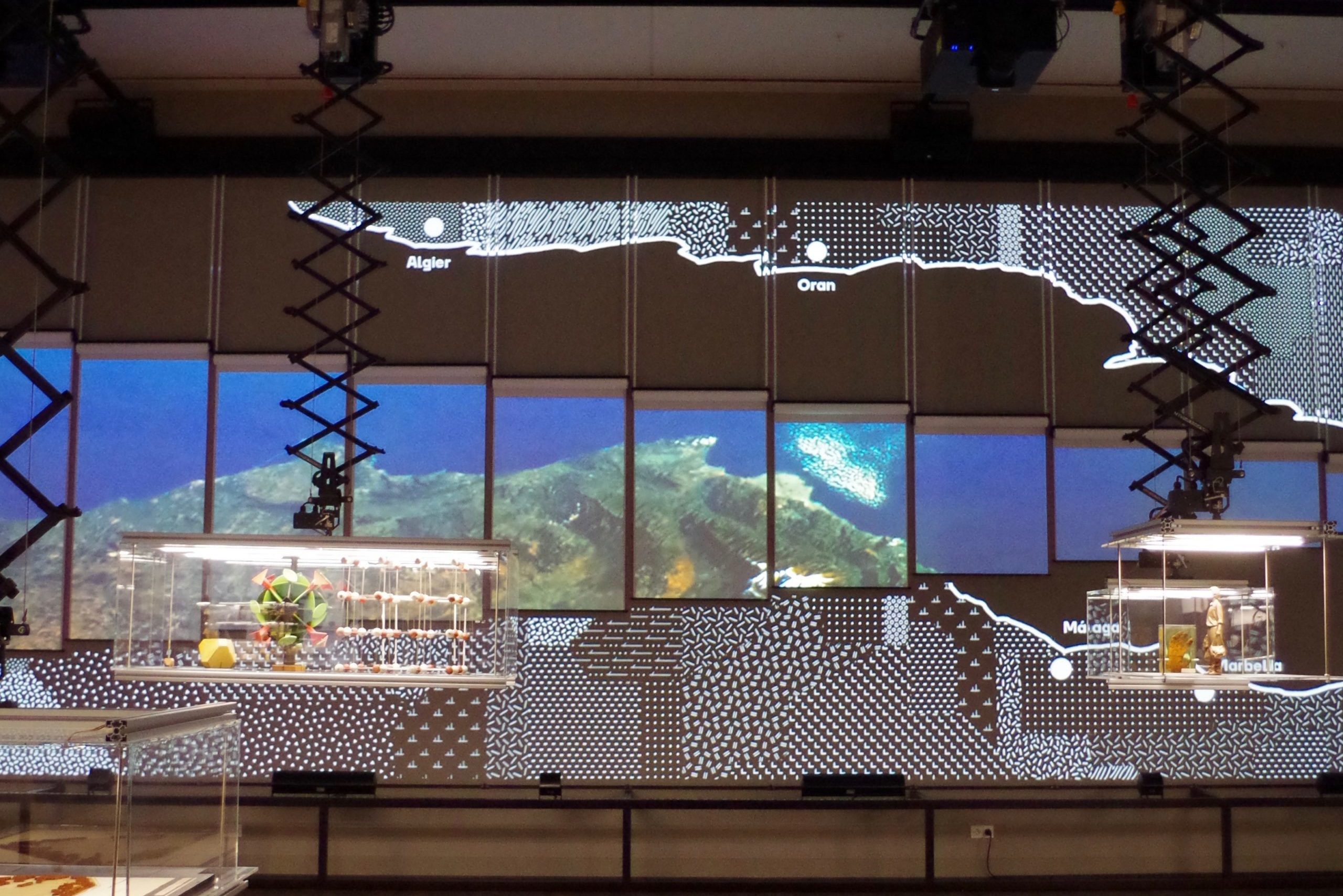 On April 22nd, a small group from IRI THESys was able to preview the inaugural exhibition of the Humboldt Labor within the newly renovated Humboldt Forum titled 'Nach der Natur' (After Nature). Adhering to all current COVID-19 regulations, THESys researchers and colleagues had the chance to see their own work featured in the exhibition which addresses climate change and biodiversity loss, as well as global challenges to democracy.
"It's unlike a classic museum – it's rather an interactive illustration of ongoing global change and an intellectual challenge, [but] still accessible for everybody, from scientific nerds to families with kids," says Patrick Hostert, Deputy Director of IRI THESys and one of the six THESys Members who appear in the exhibition.
Upon entering the Humboldt Labor, 'Nach der Natur' opens with a massive and interactive projection of a school of fish which react to real-life movements of passers-by. The fish highlight the exhibition's main theme of ecosystem and biodiversity loss and reflect the research approaches of the seven Berlin Clusters of Excellence, including Science of Intelligence and Math+ who are also featured in the foyer.
Within the main hall, a kinetic wall made of rolling screens which open and close display snippets of interviews with scientists from IRI THESys and the Cluster of Excellence "Contestations of the Liberal Script" (SCRIPTS). Within the interviews, researchers from both institutes discuss their research topics, projects and processes in relation to today's most pressing global challenges.
"I was taken away by the monumental dimensions of the interactive video wall – 35 meters of scientific visualizations, models unfolding in front of you, satellite observations of the changing Earth – incredible," says Hostert. Images from the Earth Observation Lab, as well as pictures from the collaborative photo project My M2 Earth, accompany the scientists as they enter a virtual dialogue with the audience about the linkages between human-environment systems and climate change. The other featured THESys Members include Gretchen Bakke, Jonas Nielsen, Jörg Niewöhner, Bettina König, Ina Säumel, Carl Friedrich-Schleussner, as well as Phillipe Rufin and Marcel Schwieder from the Earth Observation Lab.
Aside from the massive moving wall, the exhibition showcases other relevant historical and digital objects. "The entire room is packed with display items in movable showcases that can be lifted individually, making the Humboldt-Lab a place where visitors interact with state-of-the-art research on the Anthropocene," explains Hostert.
The exhibition and entire Humboldt Forum plan to open their doors to the general public as soon as possible and will offer free admission to all. Located only meters away from Humboldt University's main campus, visitors won't need to travel far to experience the new captivating exhibition 'Nach der Natur'.