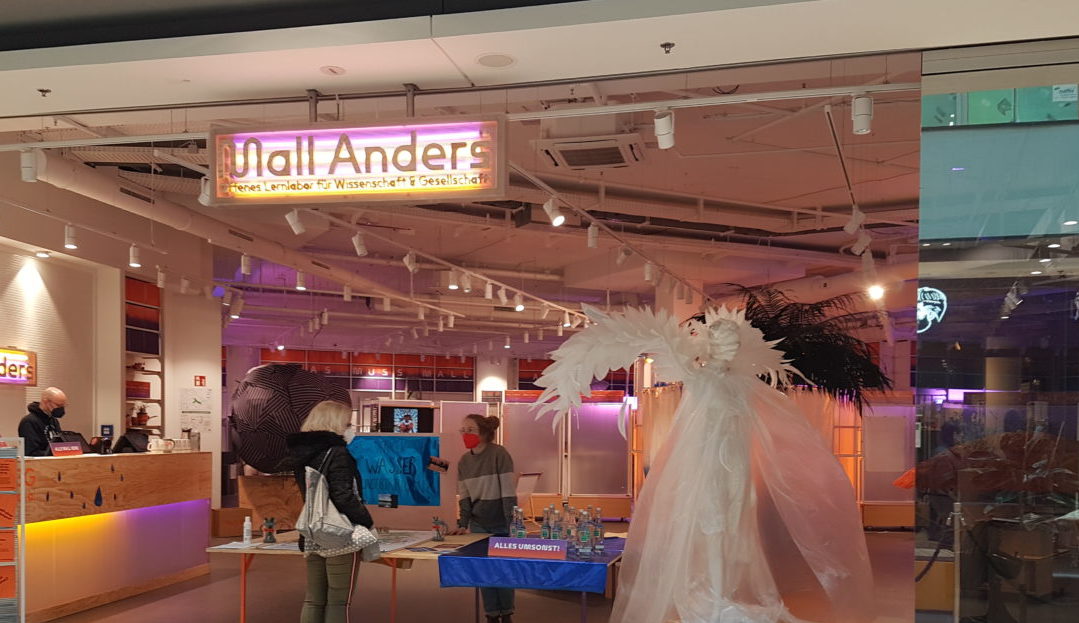 "Water is life, but nobody knows it!" exclaimed a passerby of the bright orange and purple Mall Anders in the Wilma shopping centre. A temporary learning lab built within a former retail space, Mall Anders has become a hub for transdisciplinary events, exhibitions and workshops. Funded by the Berlin-University Alliance, the space invites everyone— including collectives, research initiatives or student projects—to create their own unique pop-up.
Seizing the opportunity to experiment with artistic formats and transdisciplinary research, the project AnthropoScenes organised the Speakers' Corner on the Future of Water from January 29th- February 1st. The aim of the event was to gather a better understanding of the multiple dimensions of 'water'; the different ways of knowing it, experiencing it, worrying about it and imagining futures about it. 
The concept was inspired by both the original Speakers' Corner in London, England—a corner within Hyde Park dedicated to free speech and public gatherings—as well as the Canadian version which launched in the 1990's as a booth attached to a national television station. Anyone with an opinion could enter the booth, talk for a minute and have their message air on television. Similarly, AnthropoScenes created a little water themed corner where individuals could enter to record their stories, thoughts and ideas about water in Berlin-Brandenburg. 
To encourage shoppers to enter the space and trigger diverse responses about water, several art works were exhibited—including a video project about water fountains in malls, as well as a costume made entirely from PVC plastic. People could also take free water glass bottles, freshly filled with Berlin tap water, and enter conversations about the source of their water with co-organiser and hydrogeologist Theresa Frommen. 
 "What I liked most was that moment when people realised that they could actually say something about water in the region and even have ideas or wishes about it" says Frommen, "At first, many thought that they couldn't say anything significant about water in the region, but after we talked to them a bit, they realised that they actually have many connections to water, e.g. through tap water, swimming in Wannsee in summer, rainy days in winter. And with AnthropoScences, we can make these connections more visible and hopefully then subsequently more relevant to research."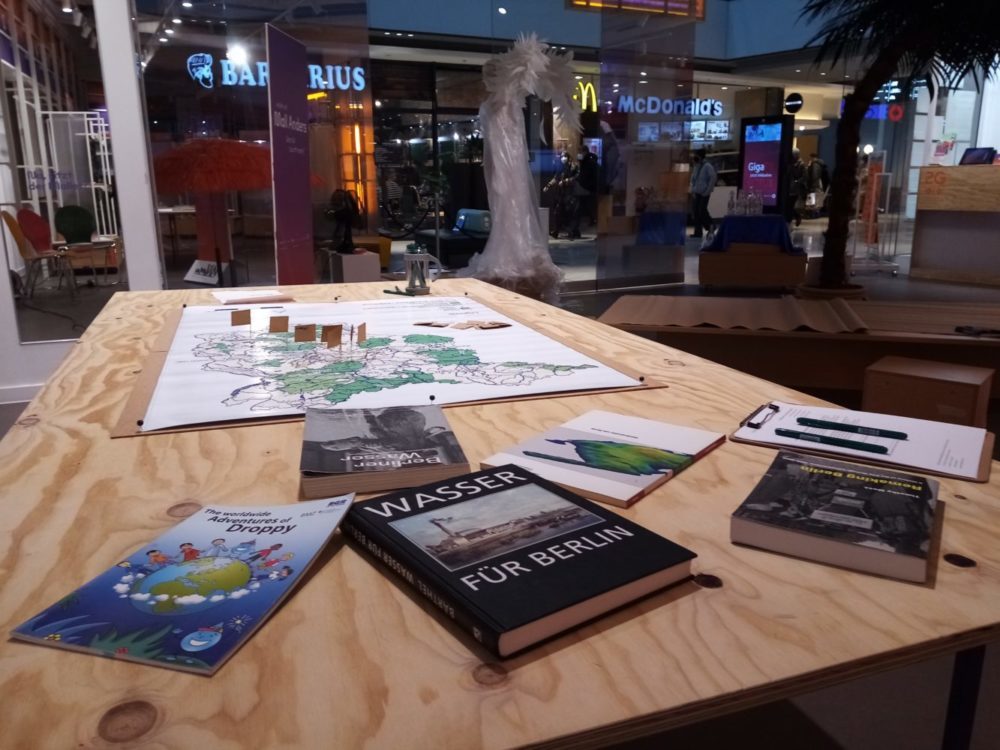 Within the rest of the Mall Anders space there were other activities such as tables with paper and pencils for kids to draw about their associations to water. There was also a giant printed out map of water in Berlin-Brandenburg where people could pin areas where they know of water-related risks.
In the current era of COVID restrictions, there have been limited options for public collaborations and participative endeavours for AnthropoScenes. But the chance to use this unique experimental space and create a pop-up allowed organisers to gather perspectives about water from different vantage points and begin the process of making sustainable water futures public.
AnthropoScenes is funded within the framework of the Excellence Strategy of the German federal and state government by the Berlin University Alliance. It is a cooperation of the Integrative Research Institute on Transformations of Human-Environment Systems (IRI THESys), the Technische Universität Berlin (TU), Freie Universität Berlin (FU) and the Theater of the Anthropocene.